30 years after Clayoquot Sound protests, old-growth logging continues unabated: B.C. conservation group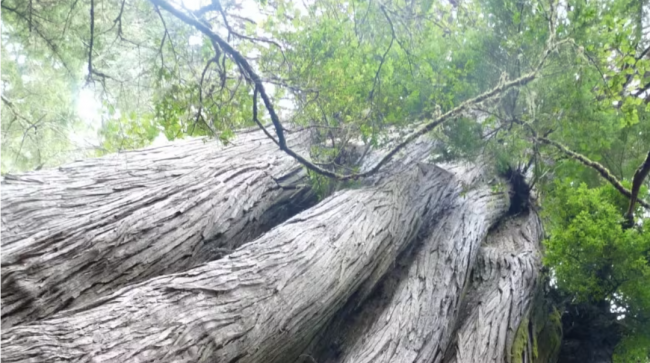 Aug. 29, 2023
Forest management in region since so-called War of the Woods should be model for rest of B.C., critics say
The Sierra Club of B.C. says the logging of large old trees in verdant, biodiverse forests on Vancouver Island has continued mostly unabated in the 30 years since one of the biggest acts of civil disobedience in Canadian history.
"We have ongoing industrial devastation of the last intact forests," said the conservation group's Jens Wieting in Vancouver. "We have few exceptions. We need a breakthrough in terms of conservation solutions."
The group, along with local First Nations, wanted to make its point during a time of extreme drought and wildfire activity in the province to expedite change to protect old-growth forests they say are carbon-rich and best able to withstand the threat of droughts, floods, heat waves and fires.
"We need to preserve them," said Saya Masso, the natural resources manager with the Tla-o-qui-aht First Nation on the west coast of Vancouver Island.
"And we need to do it in a manner that acknowledges these trees and mountains are bringing a service to the world."
WATCH | How First Nations on Vancouver Island are reclaiming stewardship and conservation: http://www.cbc.ca/player/play/2259148867998
How First Nations in B.C. are reclaiming control and access in their traditional territories 
Despite thousands of years of caring for the land and waters, First Nations on the west coast of Vancouver Island have historically been shut out of decisions about the management of parks. But the tide, it seems, is turning.
The Sierra Club of B.C. and the Tla-o-qui-aht used provincial data to show that in 1993 there were about 6,870 square kilometres of productive old-growth rainforest — trees at least 140 years or older — left on Vancouver Island. That's about 31 per cent of what's estimated to have been there before industrialized logging began.
Thirty years later, the groups say the remaining productive old-growth rainforest on the island is 4,470 square kilometres — about 20 per cent of the amount before logging began.
Vancouver Island has a land mass of about 33,000 square kilometres, and about two-thirds of that was covered with productive old-growth forests with relatively big trees before large-scale logging started in the 19th century.
Wieting said another 250 square kilometres has been logged in the past five years despite a provincial push since 2020 to defer old-growth logging in areas at risk of biodiversity loss.
"That's about 19 soccer fields every day," said Wieting.
Clayoquot Sound spared
One area of the island where the pace of old-growth logging has more or less been static over the past 30 years is where more than 800 people were arrested for civil disobedience in 1993.
That's when local First Nations and people from around the world blocked logging trucks from getting into Clayoquot Sound and demanded meaningful changes to logging practices in the province.
Prior to the protests, local nations like the Tla-o-qui-aht, Ahousaht and Hesquiaht had already been active in land stewardship that prioritized sustainability and conservation based on their values.
The Clayoquot Sound region covers about eight per cent of the land mass of Vancouver Island. The Sierra Club report said in 1993 there were about 598 square kilometres of productive old-growth rainforest there. As of 2022, 567 square kilometres remained.
"This is thanks to the ongoing leadership of the region's First Nations," said the organization in a statement.
Wieting and others want the way old-growth forests have been managed in Clayoquot Sound to become a model for the rest of the island and across the province.
Sierra Club B.C. is calling on the provincial government to meet a promise made three years ago to drastically reform logging practices around old-growth trees.
The Old Growth Strategic Review, made public in September 2020, made 14 recommendations that included calling for a pause on old-growth logging in at-risk areas, better co-ordination with First Nations and funding to develop alternative economic activities.
'Unprecedented action'
B.C.'s Ministry of Forests did not directly respond to the Sierra Club of B.C.'s report, but said in a statement that "the province is taking unprecedented action to protect old growth." 
That includes acting on the Old Growth Strategic Review recommendations, it said. The ministry did not provide a timeline for completion of these recommendations.
The ministry told CBC News that since November 2021, it has deferred logging in 2.1 million hectares (21,000 square kilometres) of old-growth forests across the province, in addition to 3.5 million hectares (35,000 square kilometres) of previously protected old-growth.
The province is also spending $25 million to set up eight new regional Forest Landscape Plans with approximately 50 First Nations, the ministry said.  
"Through these Forest Landscape Plans, local knowledge and values of First Nations, communities and stakeholders are incorporated into management of entire ecosystems," said a ministry statement.
Other spending noted by the ministry includes doubling the B.C. Manufacturing Jobs Fund to $180 million to help the forest industry create more forest products in the province, $10 million for the new Silviculture Innovation Program that's developing alternatives to clear-cutting practices, and $2.4 million for the First Nations Forestry Council, which will increase First Nations participation in co-developing changes to forest policy.
[Top photo:  A large, old western red cedar on Meares Island off the west coast of Vancouver Island near Tofino. (Jens Wieting/Sierra Club B.C.)]