B.C. warns of summer drought and asks people to conserve water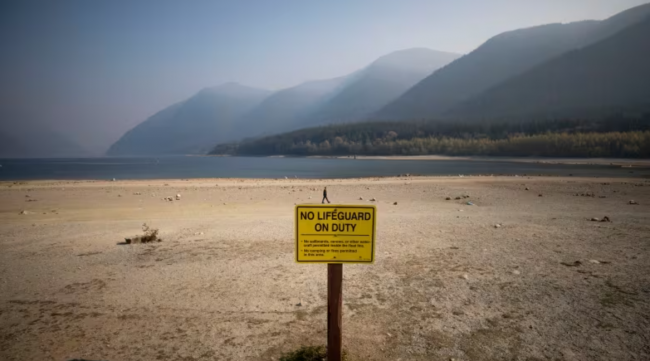 June 23, 2023
The British Columbia government is urging people to save water, saying the forecast predicts drought across much of the province this summer.
A statement from the Forests Ministry says recent rains have provided some relief in parts of B.C., but it hasn't been enough to make up the deficit.
B.C.'s drought map shows much of the northeastern corner of the province is at drought level four on the five-level scale, meaning conditions are extremely dry, with communities and ecosystems likely to experience adverse impacts.
All of Vancouver Island, as well as Haida Gwaii, the South Coast, parts of the northern Interior and much of the southern Interior are at drought level three.
A provincial bulletin shows many regions have moved to drought level three from level one or two since the beginning of June.
That includes the Sunshine Coast, where the District of Sechelt maintained a month-long state of emergency last fall as drought dried up the local water system.
Paul Pryce, the director of policy for the B.C. Agriculture Council, said industry members across the province have been seeing drought conditions pop up earlier in the year, including in the growing season.
"And so that really has a severe effect when it comes to agriculture producers, just because there's that uncertainty very early in the growing season as to whether or not you're going to be able to see things through to the end of the year, whether or not your livelihood is going to be affected by these severe climate conditions," Pryce said.
"So it certainly has a concerning effect, and does have some knock-on effects when it comes to the economic profitability of farming, but also our food security more generally as British Columbians."
Pryce said the agricultural sector is working with the provincial government on tools to ensure they're properly measuring water use to establsih a reliable water supply for farmers. 
He said he's hoping to hear that the province will invest more in tools to help farmers with on-farm water storage.
"The idea that maybe farmers can capture some of the excess precipitation that comes down in parts of the year where you're getting too much, and save that so that you can use it during periods where you're not getting enough," Pryce said.
"And so that would allow farmers to tap into the water storage, the dams and dikes being built on their properties and so that they're not stressing existing water courses."
The province's statement on Friday says people and businesses should reduce water use wherever possible and observe any local watering restrictions.
If drought conditions worsen despite conservation measures, the province says temporary protection orders may be issued to ensure drinking water for communities and to avoid significant harm to ecosystems.
With files from CBC News
[Top photo: People walk along the shore of Alouette Lake amid drought conditions on Tuesday, Oct. 18, 2022. (Ben Nelms/CBC)]