Canada burned, Canada voted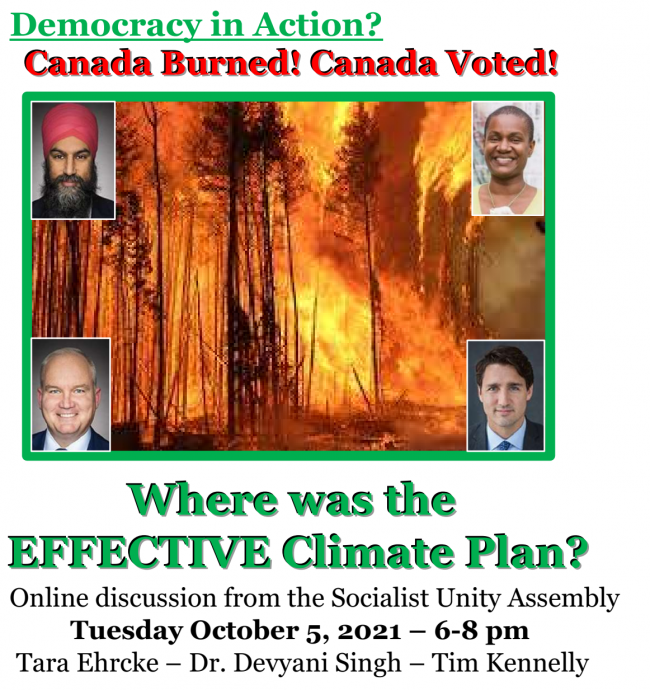 Uploaded Nov 21, 2021
Where was the EFFECTIVE climate plan?
Watch the video here: https://youtu.be/iX7Je7BSFgc
The SUA seeks to unify and bring together various socialist groups for coalition building and related work.
This Panel Show was produced by a collaborative SUA Working Group.
Speakers: Tara Ehrcke - Tara is a trade unionist and climate activist and currently a member of the bctf environmental justice action group, working within the bctf and with other unions on climate initiatives. Tara was previously the president of the greater Victoria teachers association and also previously served on the bctf bargaining team.
Dr. Devyani Singh Devyani ran as the Green Party of Canada candidate for the riding of Vancouver Quadra in the recent 2021 federal election. She says that she wanted to bring more honesty, science and transparency to Parliament. She believes that racial, social and environmental justice is integral to building an equitable and green society. Devyani holds a Ph.D. in Energy and Climate Policy, a M.Sc. in Environmental Science, a M.B.A. in Finance and serves as the Green Party Shadow Cabinet deputy critic for a green recovery. In 2020, Devyani was a B.C. Green candidate, achieving over 17 per cent of the vote in a snap election with limited time and resources.
Tim Kennelly: Tim is an active member of the Vancouver Ecosocialists and the Democratic Socialists of Vancouver and other groups.