Dimitri Lascaris' Canada-Wide Speaking Tour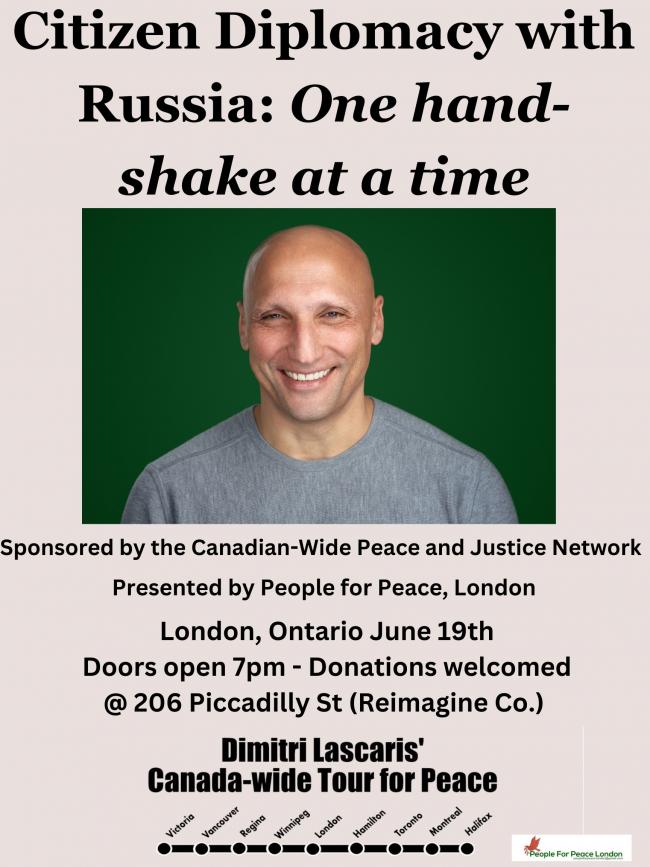 Dimitri Lascaris' Canada-Wide Speaking Tour
The Canada-Wide Peace and Justice Network (CWPJN) is pleased to announce that it has organized a Canada-wide speaking tour for citizen-diplomat Dimitri Lascaris to report back to Canadians about his recent mission of peace to Russia. The title of the tour is "Making Peace With Russia, One Handshake At A Time."
In April 2023, Dimitri Lascaris, Canadian lawyer and journalist, embarked on a self-financed trip to Russia where he lectured to students, presented at a think tank, gave interviews, met officials and peace activists, appeared on Russian media, wrote articles and tweeted daily about what he saw and heard.
For its part, the CWPJN hopes that Dimitri's tour will move the needle on Canadian public opinion in support of a negotiated end to the war in Ukraine and thus accelerate an end to the conflict. For the CWPJN position on the war in Ukraine, please see:
https://peaceandjusticenetwork.ca/stop-the-war-feb-2023/
Dimitri agreed to embark on this Canada-wide speaking tour because of the extraordinary danger created by the war in Ukraine. As he explained:
"NATO is effectively at war with Russia. They possess enough nuclear weapons to destroy the world many times over. Meanwhile, the climate crisis is spinning out of control. Not only is the war itself a major source of emissions, but this conflict is an insurmountable obstacle to the international cooperation needed to manage the climate crisis responsibly. Never before was the cause of peace more important than it is today."
Dimitri's tour begins on June 19th in his hometown of London, ON. The tour schedule is as follows:
Dates and Locations
June 19 – London
June 20 – Hamilton
June 21 – Toronto
June 22 – Winnipeg
June 23 – Regina
June 26 – Vancouver (email info@mawovancouver.org for information) 7 pm
June 27 – Victoria
June 29 – Montreal
June 30 – Halifax
July 2nd – Fredericton
July 4 – free virtual lecture, Canada-wide, hosted in Kingston
Tickets will be sold at some venues while voluntary donations will be solicited at others. Dimitri has generously waived any speaking fees so that any funds raised will go to rental and staging costs. 
The tour is endorsed by Just Peace Advocates and the International Manifesto Group.
For more information, please contact:
Ken Stone in Hamilton at kens...@cogeco.ca or 905-383-7693
Dimitri Lascaris at alexander...@gmail.com
POUR PUBLICATION IMMÉDIATE
Hamilton, ON
le 12 juin 2023
Tournée de conférences de Dimitri Lascaris à travers le Canada
Le Réseau pancanadien pour la paix et la justice (CWPJN) a le plaisir d'annoncer qu'il a organisé une tournée pancanadienne pour le citoyen-diplomate Dimitri Lascaris afin qu'il rende compte aux Canadiens de sa récente mission de paix en Russie. Cette tournée s'intitule "Faire la paix avec la Russie, une poignée de main à la fois".
En avril 2023, Dimitri Lascaris, avocat et journaliste canadien, a entrepris un voyage autofinancé en Russie, au cours duquel il a donné des cours à des étudiants, fait une présentation dans un groupe de réflexion, donné des entretiens, rencontré des fonctionnaires et des militants pour la paix, participé à des émissions dans les médias russes, écrit des articles et tweeté quotidiennement sur ce qu'il a vu et entendu.
Pour sa part, le CWPJN espère que la tournée de Dimitri fera bouger l'aiguille de l'opinion publique canadienne en faveur d'une fin négociée de la guerre en Ukraine et qu'elle accélérera ainsi la fin du conflit. Pour connaître la position de CWPJN sur la guerre en Ukraine, veuillez consulter le site suivant
https://peaceandjusticenetwork.ca/stop-the-war-feb-2023/.
Dimitri a accepté d'entreprendre cette tournée de conférences à travers le Canada en raison du danger extraordinaire créé par la guerre en Ukraine. Comme il l'a expliqué :
«L'OTAN est effectivement en guerre contre la Russie. Ces adversaires possèdent suffisamment d'armes nucléaires pour détruire le monde plusieurs fois. Pendant ce temps, la crise climatique échappe à tout contrôle. Non seulement la guerre elle-même est une source majeure d'émissions, mais ce conflit est un obstacle insurmontable à la coopération internationale nécessaire pour gérer la crise climatique de manière responsable. Jamais la cause de la paix n'a été aussi importante qu'aujourd'hui.»
La tournée de Dimitri commence le 19 juin dans sa ville natale de London, en Ontario. Le programme de la tournée est le suivant :
19 juin - London,
20 juin - Hamilton,
21 juin - Toronto
22 juin - Winnipeg
23 juin - Regina
26 juin - Vancouver
27 juin - Victoria
29 juin - Montréal
30 juin - Halifax
2 juillet - Fredericton
4 juillet - (date provisoire) conférence virtuelle gratuite, à l'échelle du Canada
Des billets seront vendus à certains endroits, tandis que des dons volontaires seront sollicités à d'autres. Dimitri a généreusement renoncé à ses honoraires de conférencier, de sorte que les fonds recueillis seront affectés aux frais de location et de mise en scène. 
La tournée est soutenue (jusqu'à présent) par Just Peace Advocates et l'International Manifesto Group.
Pour plus d'informations, veuillez contacter
Ken Stone à Hamilton : kens...@cogeco.ca ou 905-383-7693
Dimitri Lascaris à alexander...@gmail.com.