France: Over two million march, strike against pension cuts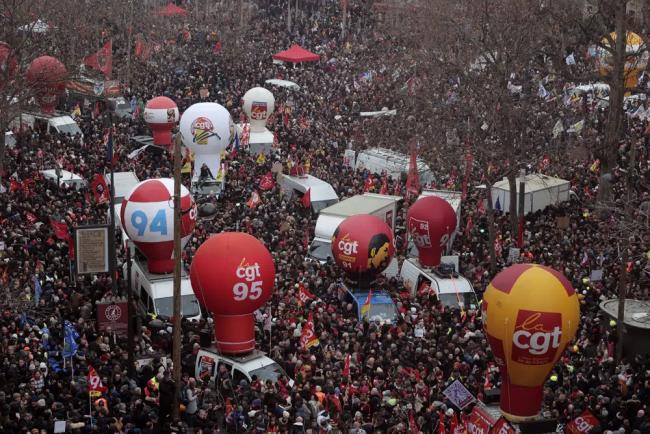 Jan. 21, 2023
French President Emmanuel Macron's retirement and pension cuts sparked more than 200 mass demonstrations and strikes across France on Jan. 19. Labor unions said more than 2 million people took part nationwide, including 400,000 in Paris.
Polls show that 80% of the population opposes the cuts, which would increase the minimum retirement age to 64 with a minimum pay-in period of 43 years.
As Macron pushed the pension cuts, he also announced a major $448 billion hike in military spending.
Eight major unions had designated Jan. 19 the "first day of strikes and protests" against the cuts. The unions have announced new strikes and protests for Jan. 31.
France's education ministry said that over 40% of primary school teachers and one-third of high school teachers participated in the strikes, forcing many schools to close their doors for the day.
Public transport was brought to a standstill in Paris, Toulouse, Marseille, Nantes, and Nice due to the strikes, and the Eiffel Tower was closed to visitors as the protests spread.
French rail authority SNCF reported a "severe disruption" across the country. "On some rail lines, as few as one in 10 services were operating, while the Paris metro was running a skeleton service," BBC reported.
[Top photo: Workers gather on Place de la République in Paris, Jan. 19.]