LNG Canada wants to go electric. The B.C. government wants taxpayers to cover the cost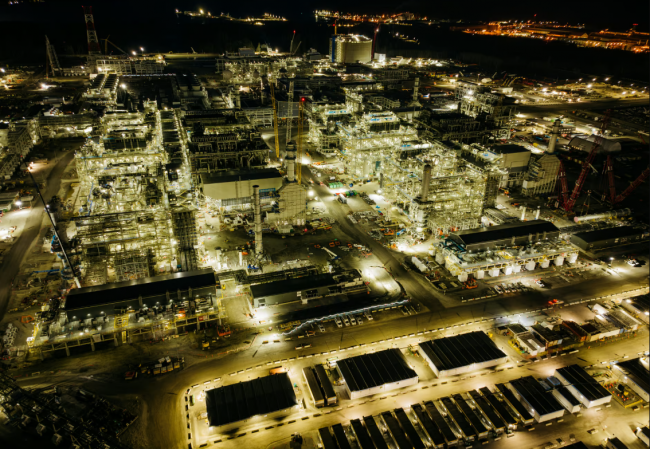 Aug. 25. 2023
Confidential documents show taxpayers could be on the hook for a 'fossil fuel subsidy' to help supply electricity to LNG Canada, a consortium of some of the world's most profitable oil and gas companies
The B.C. government wants taxpayers across Canada to pay half the $3-billion bill for a new electric transmission line supplying power to the province's LNG industry, including projects owned by some of the world's most profitable oil and gas companies, according to a confidential briefing note obtained by The Narwhal. 
The eight-page document, released through freedom of information legislation, outlined how B.C. Minister of Energy, Mines and Low Carbon Innovation Josie Osborne should lobby for federal funding for the project. The briefing note was approved by top public servants in the energy ministry and sent to Osborne in December 2022, shortly after she assumed her new role in Premier David Eby's cabinet.
The high-voltage transmission line in the North Coast area is also expected to supply electricity to new metal and critical mineral mines and support the expansion of the Port of Prince Rupert.
The line would affect as many as 101 private properties, including agricultural land. It would cut through traplines and woodlots, fall within 200 metres of archeological sites, overlap with designated ungulate winter habitat for moose and cross waterways that include habitat for at-risk white sturgeon, according to a BC Hydro presentation for affected landowners.
"Once complete, the new infrastructure will electrify" liquefied natural gas projects, including Phase 2 of LNG Canada's export project, the briefing note said.
The Narwhal asked the B.C. energy ministry if Osborne followed through on the request for federal funding and whether any agreement was reached. The ministry did not directly respond to the questions, instead emailing a statement saying, "together we will continue to explore investment in electricity infrastructure for communities." The federal government also did not directly respond to a question about whether a decision has been made about any funding request.
Although Ottawa has not publicly committed to funding the new North Coast transmission line, the 2023 federal budget earmarked $20 billion to support "major clean electricity and clean growth infrastructure projects."
Environmental groups working on climate change issues said any public funding to help the liquefied natural gas (LNG) industry amounts to a fossil fuel subsidy. 
"It's an incredibly inefficient use of public money, at both the federal and provincial level, to electrify fossil fuels," Environmental Defence spokesperson Julia Levin said in an interview. 
"At the moment, when communities across the country have lost homes [and] people have lost their lives, pouring public money into fossil fuels is beyond irresponsible," Levin said, referring to catastrophic wildfires linked to climate change that have forced the evacuation of many communities, destroyed hundreds of homes and led to the deaths of firefighters in Canada this year. "It is immoral for there to be more fossil fuel subsidies — and this is exactly a fossil fuel subsidy."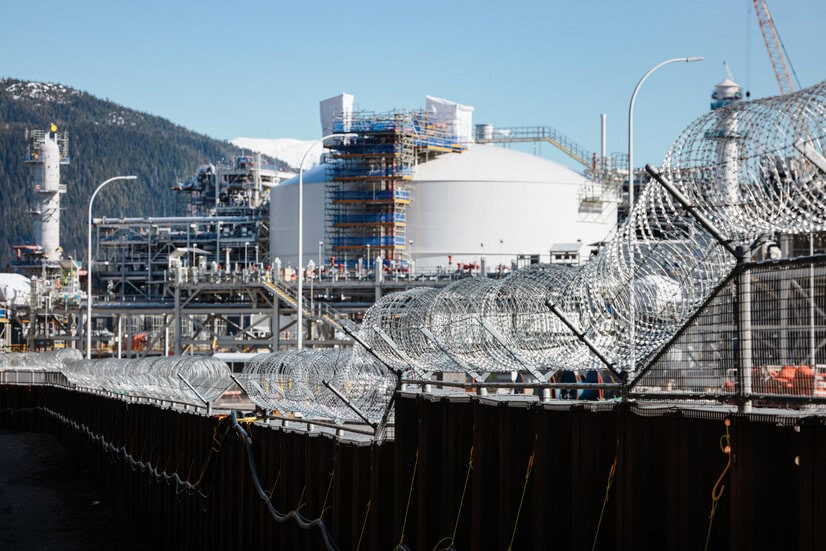 The B.C. energy ministry did not respond to a question asking if publicly funded transmission lines to help the LNG industry amount to a fossil fuel subsidy. The federal government has announced plans to terminate inefficient fossil fuel subsidies, but a spokesperson from Environment and Climate Change Canada said investments to electrify LNG production may not be considered a fossil fuel subsidy if they result in significant reductions in greenhouse gas pollution.
In January, BC Hydro announced it was seeking "expressions of interest" to help determine the need for new transmission infrastructure to supply the province's North Coast, a region targeted for significant industrial growth. 
The wording of the December briefing note suggested a decision to proceed with new infrastructure had already been made. The note said B.C. is "seeking to advance" the new transmission line "to support low carbon economic development." The request for a 50-per-cent federal contribution "follows previous discussions" between former B.C. Premier John Horgan and Prime Minister Justin Trudeau as well as conversations between senior provincial officials and three federal departments, according to the briefing note.
New transmission line to support multiple LNG projects
In addition to supplying electricity for Phase 2 of the LNG Canada project, the new transmission line will "retrofit Phase 1," the note said. (In part, electricity for the line will come from the publicly funded $16-billion Site C dam, the most expensive hydro project in Canada's history.) 
LNG Canada — a joint venture among Shell, Petronas, PetroChina, Mitsubishi and the Korea Gas Corporation — is Canada's first LNG export project. Fracked gas from B.C.'s northeast will be transported to a new LNG Canada facility in Kitimat through the Coastal Gas Link pipeline, where massive compressors will cool the gas to -162 C, reducing its volume for shipping to Asian markets in ocean tankers. The first phase of the project, which will use gas turbines the federal government helped purchase, will produce about four megatonnes of greenhouse gas emissions annually — the equivalent of putting more than 800,000 cars on the road each year.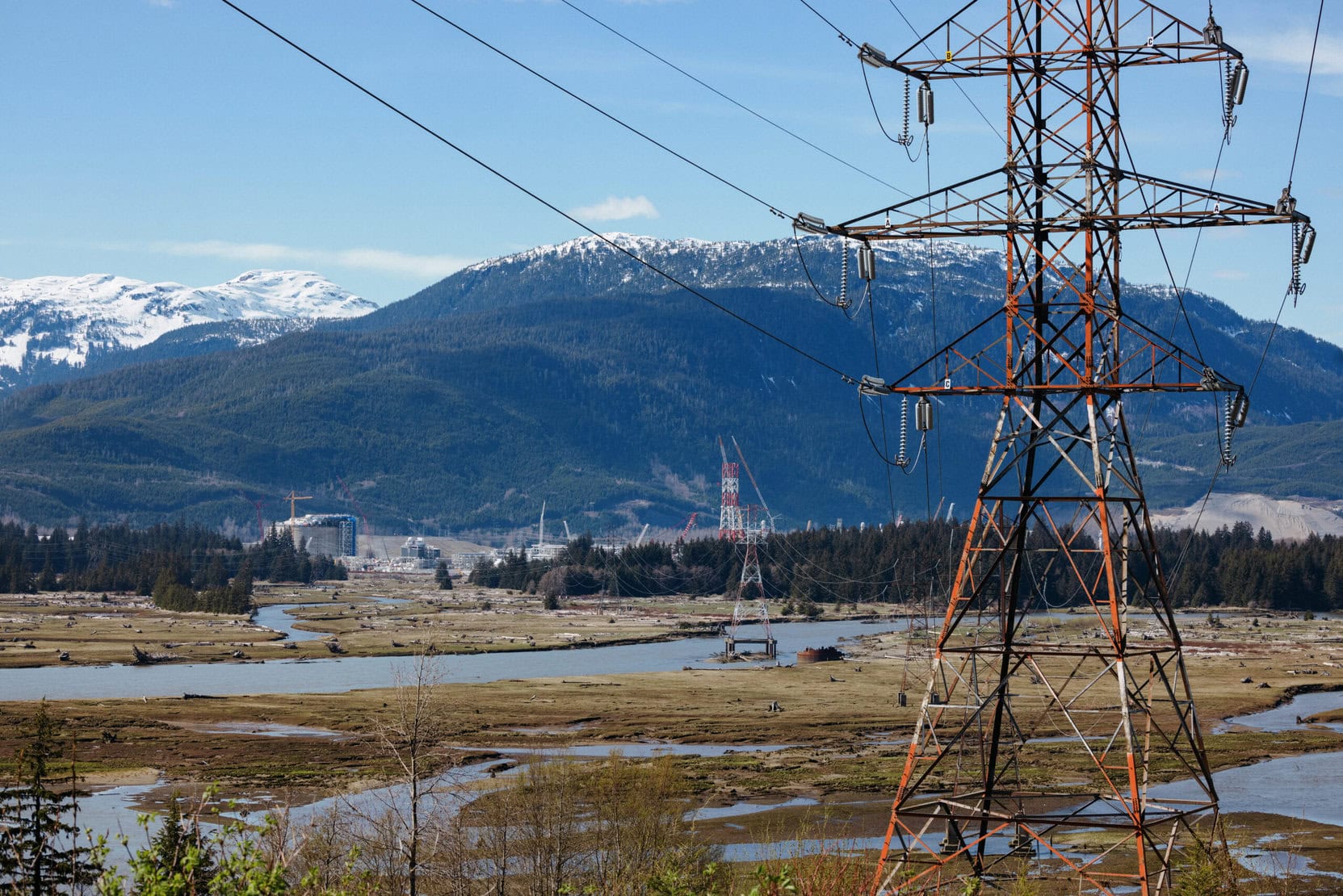 LNG Canada hasn't officially announced whether Phase 2 of the project will proceed. In January, the day before BC Hydro announced it would seek expressions of interest for new transmission infrastructure, LNG Canada CEO Jason Klein told Reuters news service the consortium planned to start building the second phase with gas-powered turbines. "The transmission infrastructure just isn't there. If the power were there today, it would be a pretty straightforward decision," Klein said.
Klein's statement publicly put the squeeze on the BC NDP government, which has championed the LNG industry while pledging to lower carbon emissions. The B.C. government earlier approved the second phase of the LNG Canada project, but carbon emissions from Phase 2 would make it impossible for the province to meet its legislated climate targets.
According to the briefing note, the new transmission line will also "electrify" Cedar LNG, a partnership between the Haisla Nation and Pembina Pipeline Corporation. The B.C. government granted Cedar LNG an environmental assessment certificate in March, on the same day it announced new net-zero requirements for LNG facilities in, or entering in, the environmental assessment process. Net zero refers to a state in which the amount of carbon emitted is balanced by the amount removed from the atmosphere. 
The briefing note said the new line will also provide electricity for Ksi Lisims LNG, a partnership among the Nisg̱a'a Nation, a consortium of Canadian gas producers called Rockies LNG and Texas-based Western LNG. Ksi Lisims LNG is currently undergoing an environmental assessment and has not yet been approved, raising questions about due process. 
"I think it's concerning that the B.C. government is asking for federal money for a project that has not even … finished an environmental assessment," said Levin, associate director of national climate for Environmental Defence. "That seems to be pre-judging in a very concerning way the outcome of that environmental assessment, which is supposed to be independent of this kind of political interference."
In an email, BC Hydro media relations spokesperson Kyle Donaldson said BC Hydro received 29 "expression of interest" submissions from industry sectors, including LNG, mining, ports and clean technology. "The results provide strong justification for the proposed new 500-kilovolt transmission infrastructure from Prince George to Terrace," he said. 
Based on the expressions of interest, Donaldson said BC Hydro is examining the need for additional lines between Terrace and Kitimat — where LNG Canada and Cedar LNG are located — and between Terrace to New Aiyansh — near the planned Ksi Lisims LNG project. The public utility is also looking into a new line from Terrace to Prince Rupert, where the port is located.  
"We do not have any projects underway for transmission lines to these locations at this time," he said. 
Net-zero LNG called 'greenwashing'
According to the briefing for Osborne, federal investment in the transmission line aligns with comments from Canada that it is open to supporting "economically feasible" LNG projects "to help countries like Germany reduce reliance on coal in the midst of a global energy crunch." 
Critics question whether B.C.'s growing number of LNG projects are economically feasible without huge public subsidies. LNG Canada is already set to receive at least $5.34 billion in subsidies from the B.C. government, despite global calls for an end to fossil fuel subsidies as the climate crisis accelerates and unprecedented wildfires shroud North American and European communities in smoke. Both the B.C. and federal governments have pledged to phase out fossil fuel subsidies.
The briefing note said new transmission infrastructure will support "net-zero" LNG. But Levin and Green Party MLA Adam Olsen pointed out there is no such thing as net-zero LNG, noting the majority of carbon emissions from LNG come from fracking and burning the gas. "That is completely greenwashing and ignores 90 per cent of the initial emissions associated with liquefied gas," Levin said. "It's a distraction."
Olsen said the BC NDP government is "speaking out of both sides of its mouth," promising to eliminate fossil fuel subsidies while continuing to hand them out. 
"If the federal and provincial governments are going to spend $3 billion collectively to lower the emissions of for-profit, multinational corporations, so that they can fit within the energy action framework that the government has set, that's exactly what it is, it's a subsidy," Olsen said. "Otherwise, the companies would have to be able to become net zero on their own, which means that they would be contributing to building the energy transmission line. It doesn't sound like that's what's being proposed here."
BC United (formerly the BC Liberals) requested more information about the briefing note in response to a request for comment, but they did not subsequently respond to an email from The Narwhal.
Ottawa has already chipped in $97 million for a project to increase the capacity of the existing transmission line from Prince George to Terrace. According to the briefing note, the increased capacity will allow BC Hydro to serve unnamed customers that have formally requested electricity service in the North Coast area, "but it is not sufficient to supply the significant number of new or expanded projects that have expressed interest in electrifying." 
BC Hydro's relationships with 14 First Nations that would be impacted by North Coast transmission lines are "at various stages based on current and past projects," according to the document. 
"Achieving consent and consensus among nations on projects within timelines required to meet customer needs will require innovative approaches." A First Nations equity model "could be a structure that both advances reconciliation and facilitates development of the North Coast transmission line in a timely manner," the briefing note said.
A table showing potential North Coast electricity customers and the estimated load they required was redacted from the document on the grounds it contains commercially sensitive information. At the time the briefing note was written, potential customers required a total of 3,000 megawatts of electricity. Almost half the demand came from new or expanding metal and critical mineral mining projects and the "electrification of region ports," according to the note. It's not clear if Phase 2 of the LNG Canada project was included in that calculation. Any specific information about current and potential future electricity demand from the LNG sector was among more than three pages of redacted material.
Olsen said it's one thing for the provincial government to go "cap in hand" to Ottawa, asking for money for a new transmission line. "I'd like to know how much they're going to the oil and gas companies, the fossil fuel companies, and asking for them to contribute to the project as well."
[Top photo: The BC NDP government wants Ottawa to contribute $1.5 billion to the $3-billion cost of building a new transmission line to provide electricity for LNG Canada and two other liquefied natural gas projects, new metal and critical minerals mines and the Port of Prince Rupert, according to a document received through freedom of information legislation. Photo: Marty Clemens / The Narwhal]