Mayor Sim's sweeps are cruel, costly, and counterproductive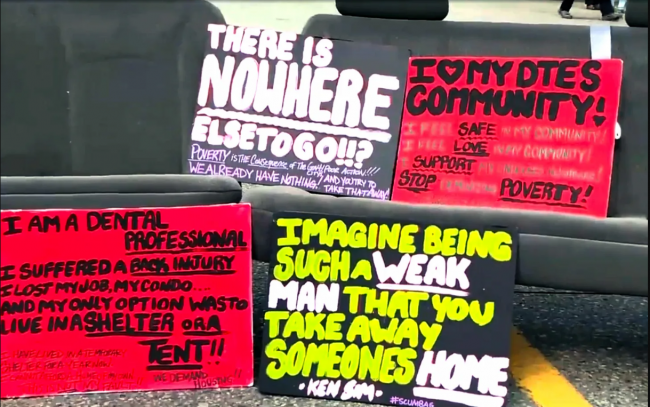 Apr. 7, 2023
City sweeps on East Hastings are a cruel, costly and counter-productive spectacle 
Less than six months into their term in office Mayor Ken Sim and his ABC majority have made clear their vision for Vancouver: more police, less justice. More inequality, less compassion. 
Early Wednesday morning, with traffic cameras at Hastings and Main temporarily (and conveniently) out of service, police and City crews moved in with a massive show of force. All day, they blocked off Hastings, even denying access to media, and systematically displaced people and threw their belongings away. 
https://twitter.com/j_mcelroy/status/1643656436944355328?s=20
By the end of the day, several arrests had been made and housing and press freedom advocates across the country had condemned the actions of the Vancouver police and City officials. 
https://twitter.com/HousingLogement/status/1643706709167448066?s=20
 Incredibly, Mayor Sim issued a press release boasting that eight of the displaced people had accepted offers of temporary shelters. Eight. The remainder of approximately 200 people scrambled to back alleys, or wandered the streets with nowhere to go. 
https://twitter.com/fumano/status/1644104561240727553?s=20
 On the other end of downtown, in the ballroom of the Wall Centre, Premier David Eby and a who's who of the province's developer and political class mingled at the annual Housing Central conference. When questioned on the raids, Eby indicated he supported the police action but lamented it as a "sad day." Just months ago, within days of being appointed as premier, Eby had vowed to coordinate government actions in the DTES. 
Despite Sim's public statements, both the Vancouver City manager and provincial authorities conceded to reporters that sufficient housing options did not and do not exist for those being displaced by the sweeps. You can send in all the cops you want; people can not move into homes that do not exist. 
The solution to the homelessness crisis is well known to all, and has been implemented successfully in cities around the world. Build social and public housing at a vast scale and across the entire city. To fund this, governments could simply tax the overhoused ruling class. ABC's biggest financial backer, billionaire Dennis "Chip" Wilson, lives in a $74 million-dollar mansion complete with a tennis court, pool, and nine bathrooms. 
https://twitter.com/Samadeus/status/1644201878803316739?s=20
Once upon a time, many decades ago, governments at all levels in Canada understood the need to invest in public and co-op housing. 
If governments continue to ignore this reality in the name of profits, the violent sweeps and police punishments will continue and spread along with the numbers of encampments of unhoused residents. This isn't a Downtown Eastside issue. This is an issue for the whole city and the whole country. 
I was thrown to the ground as the VPD started pushing the crowd back. I saw the police use traffic barriers and bicycles to slam into people, including an Indigenous elder in a wheelchair. I saw them smash a ceremonial smudge plate to the ground, which is most likely a hate crime. I saw city workers throwing people's belongings in the trash while destroying their homes. ~ Stop the Sweeps - Sean Orr Statement
HOW TO HELP
Distro Disco provides Information on where to drop off needed items including a list of ongoing needs, harm reduction items and special request items, as well as information on how to make monetary donations
---
UPCOMING EVENTS
MAY DAY SOCIAL JUSTICE FAIR 2023
April 30, 2:00 - 4:00 pm Grandview Park.
May Day is an opportunity to come together and  send a powerful message of social justice solidarity. May Day Social Justice Fair, since 2015, is an attempt to bring social justice organizations into closer communication in the hope of building  a larger solidarity network. This needs to be done to build a sustainable future and a just society. 
All social justice organizations are encouraged to participate. Join May Day Social Justice Fair 2023, 1200 block Commercial Drive/Grandview Park.  Bring your own table and chairs and information; talk to people, it is that simple.  See you there. Everyone is welcome.
As we celebrate social justice advancements, many around the world and in Canada, are confronting the legacy of: colonialism,  systemic racism, sexism, authoritarianism, environmental destruction, and capitalism. Yes, we celebrate on May Day but also we face the future where there is much work to do.
For more information go to  yvrmayday.org
WEDNESDAY, APRIL 12 @  6:30 - 7:30 pm
Harm Reduction and Naloxone Training
Everyone Welcome, Gordon Neighbourhood House
https://www.facebook.com/events/785899312953072
FRIDAY, APRIL 14 Overdose Crisis Year VII: A Parade of the Horribles
Oppenheimer Park - A horrible parade on April 14 2023, because horrible drug policy kills. To commemorate the seventh year of the provincially declared public health emergency.
MAY DAY(S) VANCOUVER
April 28 - May 7 2023
This year, the Democratic Socialists of Vancouver are working with the Vancouver MayDay Social Justice Information Fair and other organizations and individuals to restore May 1 to the prominence it deserves in our city and in our movements for justice. Full calendar of events can be found here →