Wildfire 'Tipping Point' Set to Double or Triple Canada's Climate Emissions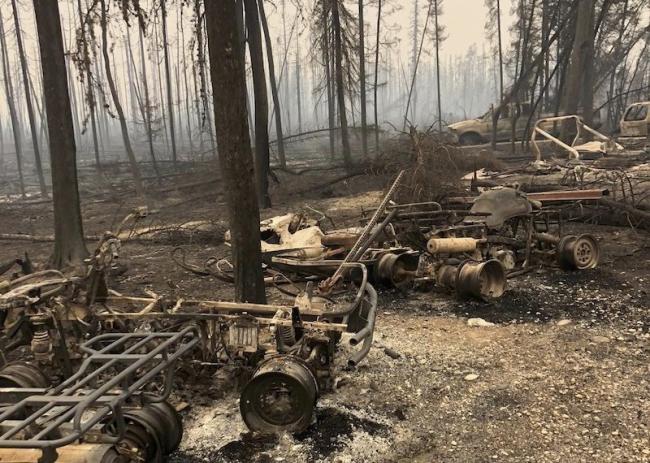 Sept. 8, 2023
This story includes details on the impacts of climate change that may be difficult for some readers. If you are feeling overwhelmed by this crisis situation 
here is a list of resources
 on how to cope with fears and feelings about the scope and pace of the climate crisis.
A devastating year of wildfires will double or triple Canada's greenhouse gas emissions for 2023, a Natural Resources Canada scientist says.
So far this year, NRCan senior research scientist Werner Kurz estimated that carbon dioxide released by wildfires will be more than 2½ times the emissions from all sectors of the Canadian economy.
"Canada's boreal forest has historically served as a carbon sink," CBC News explains. "But the warming climate and drier conditions in the past two decades have led to larger wildfires, turning the boreal forest into a growing source of carbon."
In late July, Europe's Copernicus Atmosphere Monitoring Service was already calculating that Canadian wildfires had produced 290 million tonnes of carbon.
But carbon is just one part of the carbon dioxide molecule that is better known as the world's most prevalent climate pollutant. At the time Kurz estimated the country's "off the scale" emissions of CO2 equivalent (CO2e) at 1,420 million tonnes, BNN Bloomberg reported at the time.
Canada's latest greenhouse gas inventory put the country's total emissions from all sources at 670 million tonnes for 2021. Official figures for 2023 won't be published until 2025.
"This season's fires have been unprecedented both in terms of pollution—smoke blanketed major North American cities, shut down airports, and crossed the Atlantic Ocean to Europe—and the staggering scale of territory burned," Bloomberg wrote at the time. "However, the most far-reaching impact, only just starting to be understood, is the scale of emissions."
The news agency said Kurz's figures "includes both managed and unmanaged forests." But "even limiting the scope to managed forests, the amount of carbon being burned is exponentially higher than in years past going back to 1990, and roughly equivalent to the annual emissions of Canada in 2021."
The Bloomberg coverage dug into the importance of extinguishing boreal forest fires early—and the factors this year that have made that easier said than done. "We're watching things burn that, by every textbook and every TED talk and published paper, suggest that they should not burn—and yet they are," said Parks Canada plan section chief Katie Ellsworth.
Ellsworth was deployed at the time to Wood Buffalo National Park, on the border between the Northwest Territories and Alberta, Bloomberg said, where firefighting crews with heavy equipment had spent six days in June at the "slow, hot, exhausting work" of building a six-metre-wide, nearly 13-kilometre-long firebreak to control the spread of a major blaze.
"Typically those fire guards would have held, but little about this fire season has been typical," Bloomberg wrote, citing Ellsworth. "Less than a month later, fire had jumped the barrier and the personnel were headed back to try again."
Ellsworth told the news agency the wildfires were "aggressive, they're in the crowns of the trees, they're moving from treetop to treetop," with charred wood in previously burned areas catching fire again. "We're looking at old burned areas from 2014 and 2015 and 2018 that, by all accounts and everything we know, should slow the passage of the fire, and they're not holding."
Scientists are concerned that boreal forests' transformation from carbon sink to carbon source will become a feedback loop, in which the carbon released by wildfires "contributes to the climate change caused primarily by the burning of fossil fuels, thereby accelerating the conditions that lead to more fires," CBC writes. "These kinds of feedbacks are absolutely concerning," said Jennifer Baltzer, associate professor of biology at Wilfrid Laurier University.
"The problem we have today is that the frequency of this event will be higher in the future," agreed forest scientist Fabio Gennaretti. "I think we are at the tipping point. What we are accustomed to seeing in this region will definitely change. At this point, what we see in this region is no longer in equilibrium."
(h/t to Jennifer Nathan for pointing us to this story.)