Will Housing Cost Trudeau the Next Election?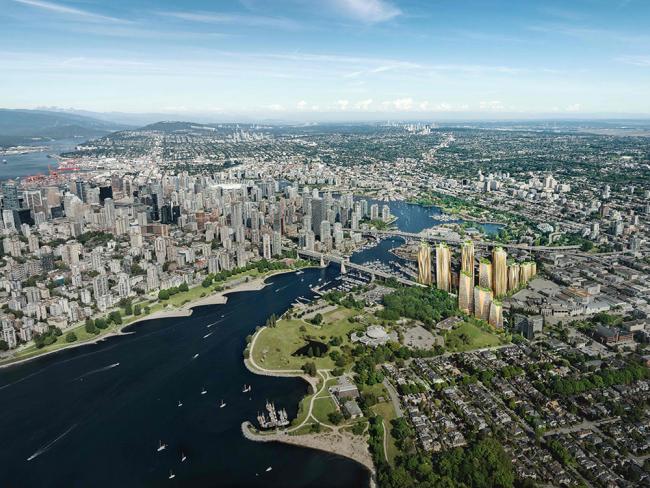 Apr. 21, 2023
An Indigenous Vancouver project shows a way forward.
With housing affordability emerging as a key election issue, particularly among the millennials who brought him to power, the recent federal budget's silence on the issue suggests he has nothing to say.
Worse, whatever he has said is not working and rising interest rates are threatening the tenuous grip hundreds of thousands of young families have in the housing market.
The budget was a "profound miss," cried the National Right to Housing Network, which recalled that the government's own National Housing Strategy Act of 2019 imposed a legal duty on Ottawa to allocate the "maximum of available resources" to help millions of Canadians achieve housing security.
You want density? Sen̓áḵw will create a community of up to 10,000 in 11 towers on just 10 acres of land. One tower will soar 58 storeys, one of the highest in the city.
You want quick decision-making, with neighbourhood critics suitably cowed? The Squamish have complete control of all zoning and land use decisions, with the City of Vancouver reduced to providing service connections.
You want climate action? Sen̓áḵw will be carbon neutral.
Transit access? There's a new transit hub in the heart of Sen̓áḵw, which is a 20-minute walk from the downtown core.
Reconciliation? The project is led by the Squamish in partnership with Westbank, one of Vancouver's leading private developers, and counts OPTrust, the pension fund of Ontario's provincial employees, as a major investor.
Affordability? Ah, well, yes, there will be affordable homes, about 1,200 affordable rental units, with the remainder making a big contribution to market rental supply. (Vancouver has been adding about 2,500 rental homes annually on average in recent years, far below demand.)
The hard fact is that Sen̓áḵw needed Canada's support to work. That's why the prime minister's attendance was so critical.
To launch Sen̓áḵw, Canada provided a $1.4-billion construction loan, the largest such loan to a First Nations-led project in Canadian history, to help the joint venture partners create the first 3,000 homes. The loan is fixed at low rates for 10 years and may be amortized over up to 50 years.
It's clear there will be no pure private sector solution to the housing crisis. This generational problem requires direct government intervention and resources at unprecedented levels — multiples of Sen̓áḵw in every province and territory.
To be fair, the Trudeau government has said and done a lot about housing affordability.
The Sen̓áḵw loan will flow through the Canada Mortgage and Housing Corp. from the Rental Construction Financing Initiative of the National Housing Strategy, the 10-year, $82 billion-program launched by the Trudeau government in 2017.
Hailed by housing advocates at the time, the strategy has been rolling out for five years through direct federal spending and federal-provincial agreements.
Ottawa insists it's working. Program spending rose more than 20 per cent under the strategy and spending on homelessness rose nearly 60 per cent.
Now at the halfway mark, the strategy has seen $32 billion spent to create or get commitments to build 116,000 of the 180,000 homes expected at this point. More than 298,000 homes have been repaired or upgraded, right on target.
Who knew? Or cares? Decent housing remains out of reach for millions.
The Parliamentary Budget Office concluded in 2021 that the housing strategy had probably helped several hundred thousand households, but more than 1.5 million households still face a big affordability gap. We're standing still.
In fact, we'd need to build 500,000 new units a year for seven years to achieve real affordability, according to University of British Columbia professor emeritus Dan Hiebert, an immigration expert. That's twice the current rate. Rising immigration alone, another Trudeau policy, is driving demand for hundreds of thousands of homes.
The National Right to Housing Network believes spending on non-market housing would have to double to meet the needs of Canadians, an assessment supported by blue-ribbon observers like Scotiabank. Fortunately, the rule in politics is that you don't need to be perfect, just better than the other guy.
Pierre Poilievre's housing policy is long on empathy for beleaguered "working class young people" but short on solutions beyond promising targets and fines for wayward municipalities. He should not be a hard guy to beat.
It's not too late for the Trudeau government to level with Canadians about the shortcomings of the current strategy and undertake a full reset in the last pre-election budget.
Anything less seems like a recipe for defeat.
Geoff Meggs is a politician and political operative and communications expert. The article was first published on Air Quotes Media.
[Top photo: The Sen̓áḵw development in Vancover 'ticks every box of contemporary housing strategy,' says Geoff Meggs. Image from Sen̓áḵw.]